Welcome to Sacred Heart Catholic Primary School Matraville. We are an inclusive faith and learning community committed to educating children, acknowledging their uniqueness and challenging them to reach their full potential.
Our school caters to families in the parishes of Our Lady of the Annunciation Pagewood and St Agnes' Matraville, and is a new, state-of-the-art, two-stream school borne from the amalgamation of the two previous parish primary schools. 
We are a school that embodies the charism of our founders, Our Lady of the Sacred Heart by committing to our school's values of love, care, respect and justice in both our words and actions. These values continue to underpin our vision for learning.
As principal, I am passionate about providing a values-informed and holistic education for every student, enabling them to grow across all domains: academic, social, emotional, spiritual and physical.
We believe children learn best when the curriculum is challenging, stimulating and relevant, and that teaching practices support the diverse learning needs of our students. The teaching of foundational literacy and numeracy skills is a key focus. We embed 21st century skills across the curriculum, including the ability to think in creative, critical and problem-solving ways, to communicate confidently, and to work collaboratively with others.
We value the partnership of faith and education between parish, school and home. We believe that this partnership will help our children to actively engage with their faith, learning and community.
Our school site is growing with state of the art new classrooms, playgrounds and shared parish facilities as part of the Pagewood Matraville Masterplan. There will be an Early Learning Centre on site and spacious playground. To find out more, visit the project site. 
I invite you to explore our website to discover how our school is a special place of learning. For those new to our community, I look forward to meeting you and your child soon.
If you are seeking enrolment, you are invited to attend our open day in March of each year to tour our school and collect an enrolment package. This year, our open days are on 28 February and 2 March. Get in touch with us if you'd like to enrol your child outside of the annual March-May enrolment period.
Mrs Rose Andre
Principal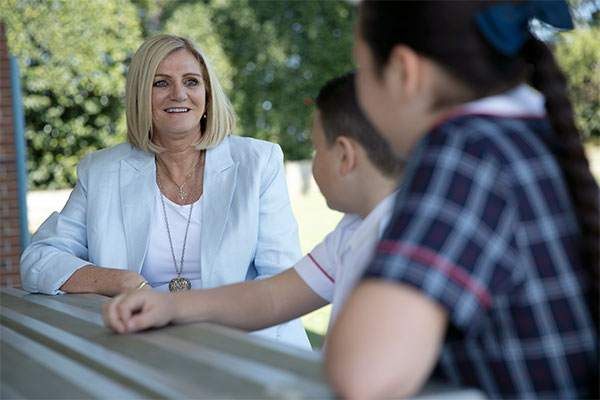 Proudly Part of the Community of Sydney Catholic Schools
Our school is part of a system of 147 low-fee Catholic schools in the Sydney Archdiocese.
Sydney Catholic Schools are thriving Catholic communities that ignite a love of Christ through excellent teaching and learning to empower students to reach their full potential.